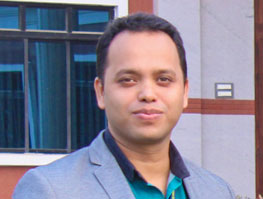 Mr. Sawrajyoti Deka, M.Pharm.
Assistant Professor
Mr. Sawrajyoti Deka is presently designated as Assistant Professor at NEF College of Pharmacy, Guwahati, Assam, India. He has received his M. Pharm in Pharmaceutics from Department of Pharmaceutics, College of Pharmacy, SRIPMS, Coimbatore affiliated to The Tamil Nadu Dr. MGR Medical University, Chennai in the year 2012 and B.Pharm in 2009.
He started his career in Business Marketing as Junior Manager in RPG Life Sciences in 2012. After 2 years, he moved up to an Pioneer house of Ophthalmic Speciality as a Senior Manager for Guwahati in an American MNC house i.e. Allergan Eye Care, where he worked for 4.5 years by taking care of business potential in 3 states i.e Assam, Meghalaya and Nagaland with different assigned Eye Hospitals. Next he moved to Varyfore Panacea Pvt Ltd as a Product Manager for Cataract Surgical Segment in IOL and Keratome Blades designs. With a total of 6.5 years of Field and Industrial Market experience, now he wants to contribute in core towards the development of professionals for the nation, by working as a faculty in shaping up the future of pharmaceutical profession here in and tomorrow with right skills and knowledge as per the need of the growing era..
<< Back >