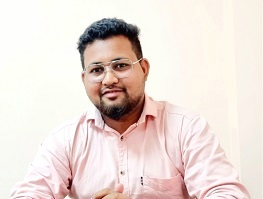 Mr. Abu Saleh Nizam Uddin Siddik, M. Pharm
Assistant Professor
Mr. A. S. Nizam Uddin Siddik, he has presently designated as Assistant Professor, Pharmaceutical Chemistry at NEF College of Pharmacy, Guwahati, Assam, India. He has completed his Bachelors of Pharmacy from Department of Pharmaceutical Sciences, Dibrugarh University, Dibrugarh, Assam in the year 2019 achieving First Class and has attained his Master of Pharmacy in Pharmaceutical Chemistry from Department of Pharmacy, Tripura University (A Central University), Suryamaninagar, Tripura in the year 2021 achieving First Class with Distinction.
His area of research during his Master degree project work was "Phytochemical analysis and antioxidant potential of Crude Leaf Extract of Clerodendrum philippinum Schauer". He has gained his industrial training (as per B. Pharm. curriculum) from Regional Drugs Testing Laboratory (RDTL), Six Mile, Guwahati, Assam. Throughout his study period he has attained various National and International Seminars, Poster Presentation, Workshops, Conferences and Webinars related to the profession.
He has published four review articles, one in National and three in International Journals. He is very much aspiring and wants to serve himself in research and development in the field of world third largest healthcare system i.e., Pharmaceutical Science and to provide quality education and knowledge to the students. He is also committed to professional ethics, standards of practice and always ready to give his full contribution for the welfare of the NEF College of Pharmacy, Guwahati, Assam.
<< Back >